Kairros is delighted to announce that 2019 marks the start of a national presence which now includes Victoria (Vic) and Western Australia (WA) in addition to New South Wales (NSW).
In recognition of the increased demand for services across Australia to assist culturally and linguistically diverse (CALD) clients, Kairros now boasts a national presence which includes Victoria (Vic) and Western Australia (WA).
Having a local presence in Melbourne, the second most diverse city in Australia, will further embody the Kairros value of caring for people and continues to support the integral focus on multi-cultural services that Kairros takes pride in providing to help Melbourne based CALD clients overcome the disadvantages they experience.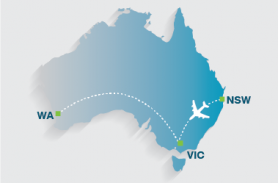 To complement the Melbourne presence, Kairros also plans to leverage the success and reputation achieved to date in New South Wales by including the market-leading preventative and Workplace Health and Safety (WHS) services to provide a full suite.
And that's just the beginning. Kairros will also have a local presence in Australia's fastest growing city, Perth later on this year.
When asked about the national expansion longstanding Account Manager, David Riley said, "The Kairros team is incredibly excited about the opportunity to help people of all backgrounds lead healthier lives across Australia".