We're always looking for talented people to join our team
At Kairros we value our employees and every person who joins the team will be presented with opportunities for a long career with the group.
Most of our Business Managers were once Graduates! Due to our continued success we are currently looking for Allied Health professionals on the in Sydney to cover the growing  workload.
We are proud of the work that we do, and wouldn't be successful without our awesome team of dedicated people. If you've got the desire to be a part of a group of people in a fun and rewarding environment, then send us your résumé.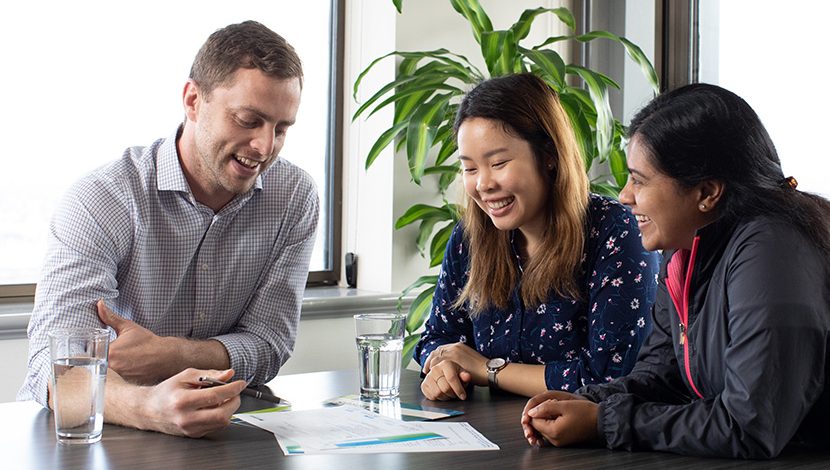 Benefits to enjoy
As a valued employee at Kairros, you'll enjoy a host of benefits that are above and beyond what you could expect elsewhere. These include:
Career Development
Our leaders are adept in providing opportunities to all staff for professional development in line with your interests, skills or development.
Coaching
One on one mentoring with leaders or our specialised Coach provides staff with the confidence to do their job and that there is always support available.
Employment essentials
Novated leases, coffee machines, fresh fruit, employment assistant programs, referral bonuses. Some companies call them perks. We call them essentials.
Flexible working arrangements
Need to juggle life's commitments? We've got your back with modified work plans and work from home capabilities.
Professional Development
Your educational needs are covered with access to online learning, a training calendar, funded degrees and interstate or external courses.
Support & Culture
We are proud of the way we support our staff at any stage of their career.
Kimberly, Rehabilitation Consultant
"After graduating from university, working for Kairros has been the perfect start to my career. The Kairros team are an amazing bunch of experienced allied health professionals who are always willing to share their knowledge and expertise, whilst also having time for a good laugh. As an OT, I have opportunities to complete Activity of Daily Living Assessments and Ergonomic Assessments which contribute to my ongoing development."
Lam Lai, Rehabilitation Consultant
"I enjoy working at Kairros as the group of allied health professionals are very welcoming and always willing to assist in sharing their knowledge. Kairros team leaders and managers continue to listen and provide work that I personally find enjoyable and meaningful. Furthermore, they are very supportive of continued professional development and as an OT I have opportunities to complete Activities of Daily Living Assessments and Worksite Assessments. I have also thoroughly enjoyed assisting injured workers return to life and to meaningful work, whilst improving their overall quality of life."
Natalie, Rehabilitation Consultant
"Working at Kairros has allowed me to grow and develop my skills as an Exercise Physiologist, whilst being surrounded by a welcoming and supportive team. I have enjoyed the wide range of work I have been able to do, allowing me to gain valuable experience in both case management and clinical occupational rehabilitation."
We are an Equal Opportunity Employer, proudly welcoming people living with disability including mental health conditions, people from diverse cultural and linguistic backgrounds, people from the LGBTQI community, veterans, carers and Indigenous Australians to our team. When you join Kairros, we want you to bring your whole self to work – and we value your unique contribution. Read more in our Diversity and Inclusion Action Plan.