Kairros recently achieved 100 referrals in WA since launch in 2020 and welcomes team expansion with two new team members
Having launched locally in WA in 2020, now just one year later, Kairros is celebrating 100 referrals – a noteworthy achievement for a boutique provider. This could only be achieved through the employees who work tirelessly to make this happen.
Kairros Team Leader Lauren Cooley is an OT by background. She was born and raised in Perth and we are proud to share that Lauren has recently been appointed as Business Manager, Perth – due recognition for her integral contribution towards laying the foundations of the Kairros WA branch. Lauren stated that the main goal has been to grow the business and to provide a high quality of work, as this is why people refer to Kairros. Lauren also mentioned that launching a new business division at the beginning of a Pandemic was an adventure which taught the team to be adaptive and innovative.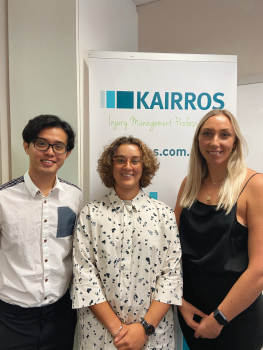 Lauren shared that there has been a clear focus on developing initiatives that assist employers to support culturally and linguistically diverse (CALD) clients in work related injuries, and implementation of early intervention services to manage and prevent future injuries/claims. It's clear Lauren's hard work is paying off. She was recently announced as one of seven Kairros 2021 ARPA Finalists.
Despite all the challenges that 2020 brought with it, the Kairros team is also pleased to announce the appointment of two new  team members who will be based in WA.
Born in Bunbury, South-West WA, Stef Italiano is an Exercise Physiologist by background and has extensive Vocational Rehab experience. Stef is known for her kind, down to earth nature, and when she isn't working she's playing footy. This year will see Stef coaching women's West Australian Football League (WAFL) teams in her spare time.
Kairros also welcomes newly qualified Psychologist, Antonio Soon who is passionate about Vocational Rehabilitation and helping people from all walks of life. Antonio truly embodies our Kairros CALD values. Born in Malaysia and raised in Singapore, Antonio moved to Australia on his own to study. His extensive life experience has seen him travel the world while also becoming fluent in Mandarin, Cantonese, Malay, Hokkien and simple Japanese.
When asked about the WA growth and team expansion, Kairros General Manager, Danielle Brown stated that, "I am so happy with the progress made in WA for our clients and customers. Our team has worked so hard and our honest passion for what we do has played a huge part in reaching our goal. The team will definitely be going out to celebrate what has been a huge year and to mark the start of a bigger and better 2021!"