Communicating with Culturally and Linguistically Diverse (CALD) individuals
Everyone has a culture, although many people and communities suffer from cultural blindness. Ask them about the culture of their town or city and they are likely to respond, "What culture? We don't have a culture." If everyone around you shares a similar culture, it may be less obvious just what culture is.
Ethnicity is not culture. Many Australians of ethnic heritage identify more with Australian culture than with the culture of their parents or grandparents.
Everyone within a culture is not the same. Our culture may also be influenced by our being part of a subculture – a group defined by shared characteristics and values, such as religion, age, particular needs or sexual preference, e.g. the Deaf community and baby boomers.
Culture is not synonymous with the arts. Sometimes people will say something like, "I'm going to the theatre to get some culture." Often we think that we develop culture through doing 'arty' things or attending 'elite' events. However, this is really only expanding our experiences within our culture.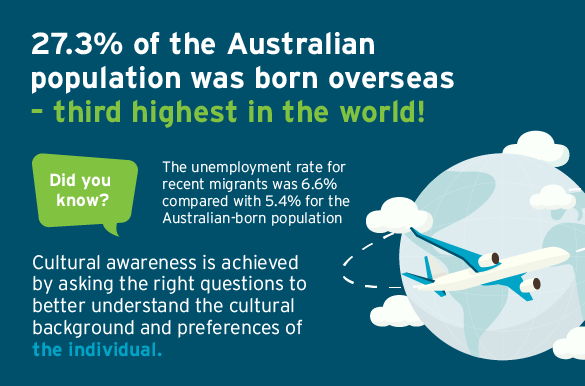 Developing a culture
Diversity exists within any cultural group. Not everyone from the same culture behaves and thinks in the same way.
There are differences within the same cultural group due to:
the subculture or subgroup to which the person belongs
the person's unique experience
personal or individual factors.
Many factors determine specific values or behaviours of a person's family or social group, and contribute to the development of their culture.
Therefore, culturally aware and sensitive communications are achieved by asking the right questions to better understand the cultural background and preferences of the individual, rather than relying on knowledge gained from interactions with others of that background.
Engaging with CALD individuals and customers
People who speak languages other than English form about 25% of the community.  Key issues when you are engaging in direct contact with CALD individuals and co-workers include:
finding out the individual's preferred language and engaging an interpreter if required
developing a cultural understanding by learning and acknowledging all aspects of their culture
being sensitive to the individual's gender preferences
being conscious of physical contact, especially with those of the opposite sex
being aware of differences in eye contact or handling belongings
consulting the CALD person regarding their religious practices and making appropriate arrangements for them
being aware of bereavement ritual or funeral practices (when applicable)
being aware of differences in communication styles and differences in interpretation of meanings
clarifying the similarity of and differences between the provision of services in the person's country of origin and Australia.
Elements of intercultural communication
People from other races and cultures have a great deal to offer.  By interacting with them in a positive way and by trying to understand them and their culture, you can learn about other countries and customs, broaden your own outlook on life and maintain their engagement in the recovery process.
A culture is a complete pattern of living. It is elaborate, abstract and pervasive. Countless aspects of culture help determine and guide communication behaviour. Three elements to consider when interacting with people from different backgrounds:
Graded language is language that is adapted to the level of the audience in some way. Many course books use graded language. It can be compared with authentic language, which is not changed in any way. For example, in discussing an SUV or 4WD vehicle, it would be best to first discuss vehicles, then cars, then specific types of cars, such as an SUV.
Graded language should be used when introducing new topics. Be sure to use simplified terminology as much as possible in early discussions before progressing to more complex terms and jargon. In the context of rehabilitation, and more specifically a certificate of capacity, you could talk about "ability to work" rather than "capacity for employment." Similarly, a vocational assessment may be better described as "a discussion about your job history."
The objective of concept checking is to allow the individual the chance to participate in the learning process by letting them express their acquired or intuitive knowledge, and through critical thinking which will enhance their knowledge by adding to what they already know.
To understand what effective concept checking is it will help to know what it is not. Concept checking is not asking, "Do you understand?"  Concept checking allows us to determine if individuals in fact do understand new concepts that are being introduced. It draws out what the individual knows through their relationship to the words they understand. But further than that, it allows you to see what the individual knows, and so permits you to add to their knowledge. It also allows you to give a clearer definition for an individual if there is something that they do not understand.
The key to successful concept checking lies in an artful interaction between you and the individual. Although it is often used after eliciting information from individuals, it can be used as needed.
A phrasal verb is a verb that is made up of a main verb together with an adverb or a preposition, or both. Typically, their meaning is not obvious from the meanings of the individual words themselves. For example: "She has always looked down on me."
We might not necessarily need to avoid phrasal verbs entirely, but we should be conscious of how often we use them in conversation with a CALD individual.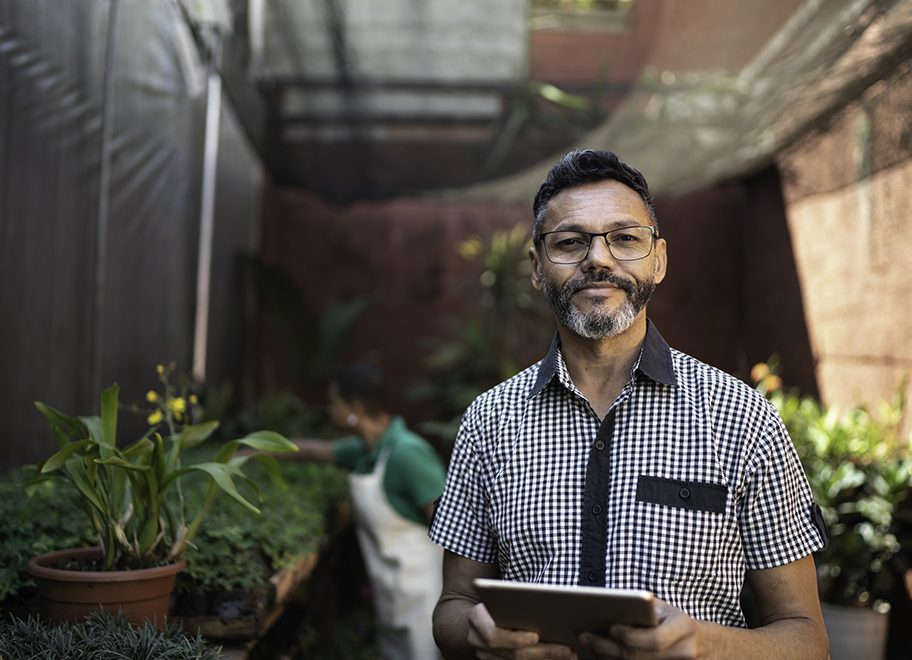 Strategies to support verbal communication
Do not make assumptions about a person's language proficiency.  There is great variation in English proficiency within the migrant population
Active listening will help you detect the person's speaking style and clarify the meaning or issues associated with accents
Always seek clarification for statements made by CALD clients or customers that seem irrelevant or unclear
Be aware of people who may transfer communication routines from their first language to English. This may cause confusion
Be sensitive about the effects of cultural differences on communication patterns, meaning of words and concepts. People's messages may be destroyed when they transfer the idea from one to another
Do not over-emphasise the language barrier; treat it in the same way as all other communication barriers
Speaking in a loud tone or slowly pacing your speech will not help your clients understand English better. Often, it will result in a negative effect or interpretation.